Since around the 21st of last month, ETH/USD market has been trading sideways near the 78.60 Fib level. However, price action appears to have found support at the 78.60 Fib level.
Ethereum's Analysis Statistics Data:
ETH value now: $1,317.70
Ethereum's market cap: $162.14 billion
Ethereum's moving supply: 122.64 million
Total supply of Ethereum: is 122.64 million
ETH's Coinmarketcap ranking: #2
The activities portrayed in this market calls for closer examination, and we shall extend this price examination to the ETH/BTC market as well. So, let's begin!
Major Price Marks:
Ceiling Marks: $1317.70, $1357.00, $1400.00
Floor Marks: $1294.00, $1250.00, $1230.00
Ethereum Price Prediction Today October 4, 2022: ETH/USD Price Action Shapes To Rebound Upwards
The latest candlestick formed on the ETH/USD daily chart was able to sit on the support of $1266.44. Interestingly, this support aligns with the 78.60 Fibonacci level. Also, this green candle is pushing Ethereum's price closer to the MA of the Bollinger indicator. Furthermore, looking at the RSI it could be seen that the curves of this Indicator which were journeying downwards before now curved towards each other at the 79% and 75% levels. If these lines should eventually cut across each other, this would portray that Ethereum's price will increase. And, given the level of this line, the probability of this occurring is fair enough. Therefore traders can expect ETH/USD price to reach near $1400 soon.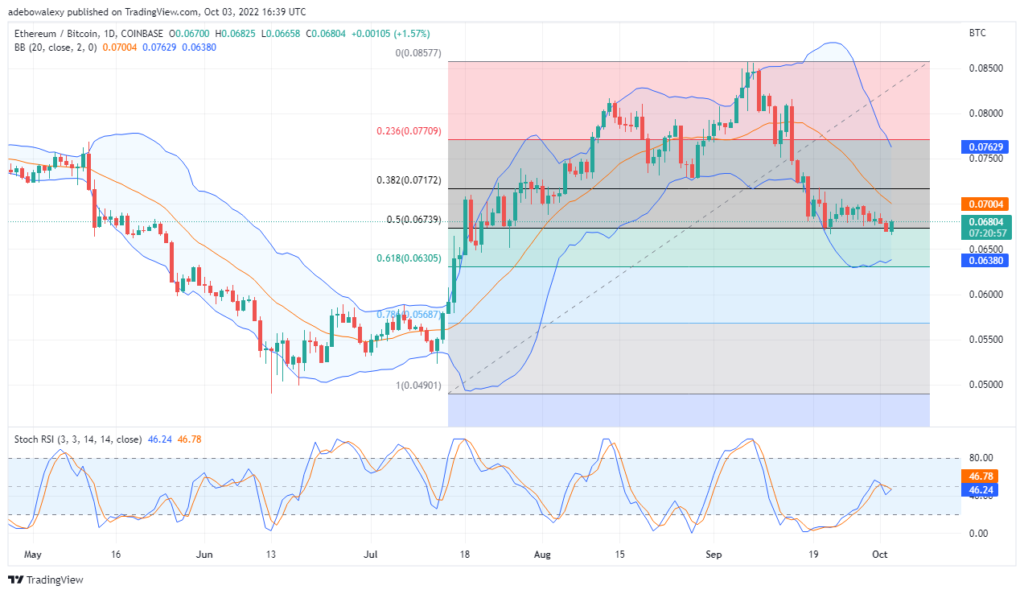 Ethereum Price Prediction Today October 4, 2022: ETH/BTC Price Searches for a Base
Meanwhile, examining the ETH/BTC market, we'll see that the price candles here appear not to be testing any of the Fib levels. However, price candles seem to have followed a bowed trajectory to the side, to reach their current position. Also, the price candle seems closer to the Bollinger indicator than to the lowest limit of this Indicator.
At the same time, the Stochastic RSI lines are now touching each other at the tip. By implication, this is telling that the bulls in this market are gaining strength. This may be because multiple pending long orders were triggered when price action tested the Fibonacci level of 50%. Therefore, traders can predict that ETH/BTC may soon be worth more than 0.07004 soon.