It's not always that Vitalik Buterin sends funds to support other crypto projects. However, he appears to have developed a liking for DOGE.
About 9 days ago, an Ethereum transaction was recorded. This particular transaction originated from a crypto wallet controlled by Vitalik Buterin. The transaction involved 500 ETH coins sent to a crypto address belonging to the Dogecoin Foundation. At current prices, the transaction is worth around $1 million.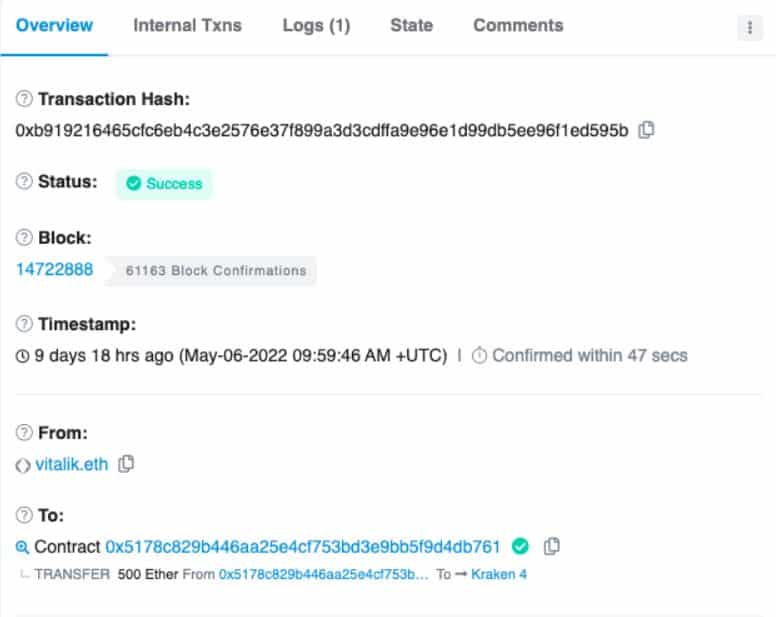 Who Is Vitalik To DOGE?
Vitalik Buterin loves Dogecoin, and he has been recorded admitting as much in the recent past. According to him, the crypto is great but would fare better if the network switched to proof-of-stake. He hopes to see this happen in the near future.
Buterin was appointed as an advisor to the Dogecoin Foundation and joined its board back in August 2021. This was the first board meeting of the foundation in 6 years. In this case, it is clear that Buterin is a huge fan of DOGE and that sending support isn't much of a shocker.
DOGE Market
At this moment, DOGE is trading at around $0.089 and is at position 10 in the charts. There have been efforts to improve the crypto's utility, and Buterin's contribution may be aimed at boosting these efforts.
Dogecoin started as a fork from Litecoin back in December 2013. It was created by Billy Markus and Jackson Palmer. Since then, crypto that was initially seen as a joke has grown to be one of the top and most popular coins in the market.
For one, being among the top 20 cryptos in the charts is a big deal to any crypto project. There are currently over 4,000 crypto projects in existence.
DOGE's switch to a proof-of-stake mechanism is still in the works, although there hasn't been a clear timeline as to when this will happen.