There are two arenas where MetaMask will need to compete and win
When you first get into crypto, you quickly realize: You can invest in a lot of the most popular projects and services… But MetaMask, the leading crypto wallet, is not one of them. However, that's about to change.
MetaMask's parent company, ConsenSys, just raised $450 million from everyone from SoftBank to Microsoft (NASDAQ: MSFT to the rapper Young Thug. As ConsenSys made the rounds in the media this week, we learned two more things:
MetaMask just hit 30 million monthly users. That's nearly three times the user base of Coinbase (NASDAQ:COIN) as of the latest Q4 report.
ConsenSys plans to launch a MetaMask token.
The prospect of releasing its own crypto is something MetaMask has been coy about in the past.
Just last month, at the ETHDenver conference, MetaMask Lead of Operations Jacob Cantele told Decrypt that MetaMask believes in "doing it over time and doing it in ways that are meaningful—and doing it in ways that are not a cash grab… It's also not something where we're going to put our project in jeopardy of either regulators or give governance to 'airdrop farmers.'"
Now we've got Joseph Lubin, co-founder of ConsenSys as well as Ethereum (ETH-USD
But how good of an investment will MetaMask be once its crypto is available?
The way I see it, there are two arenas where MetaMask will need to compete and win, if it's going to maintain its edge – and reward investors.
Flexibility for Users
If you're looking to try different decentralized exchanges (DEXs) like Uniswap… or get into decentralized finance (DeFi) tokens… then MetaMask is considered
The advantage of using MetaMask versus native wallets on individual blockchains is that you can store a lot more than, say, ETH and Ethereum NFTs.
MetaMask works with all Ethereum compatible chains, like Polygon (MATIC-USD), Avalanche (AVAX-USD), and the algorithmic stablecoin DAI (DAI-USD). And, of course, you can put other Ethereum-based tokens in there, like Wrapped Bitcoin (WBTC-USD) and the stablecoins USD Coin (USDC-USD) and Tether (USDT-USD
What MetaMask doesn't offer is the new hotness in crypto: Solana (SOL-USD
Coinbase Wallet, on the other hand, now supports Solana
Another competitor, Brave, plans to add "wallet features for the Solana blockchain into Brave's Web3 desktop and mobile browsers in the first half of 2022."
Brave is a desktop browser with a built-in wallet – and on March 7, it rolled out a mobile version, too.
"The launch of the Brave Wallet is big news," writes Luke Lango, whose Ultimate Crypto portfolio has long included Brave's parent project, Basic Attention Token (BAT-USD).
Already, Brave Wallet's native browser has attracted a cool 50 million monthly users with its crypto reward program.
Brave users can opt in to Brave Private Ads and get BAT crypto in return; YouTubers and Twitch creators earn BAT, too, if Brave users view their content.
On the other side, marketers can stop handing over the whole advertising budget to Facebook (NASDAQ:FB) or Google (NASDAQ:GOOGL) and get a better bang for their buck. And at least users get their slice of the pie – rather than being exploited by Big Tech for ad dollars we'll never see.
Meanwhile, MetaMask has a browser extension, versus a whole separate Web3 browser with crypto wallet inside, which is easier to adopt… But will MetaMask follow suit and incorporate Solana like Brave Wallet and Coinbase Wallet?
It's worth noting that when Joseph Lubin was doing interviews about the big MetaMask news, he specifically trash-talked Solana. SOL rewards to network validators are too high, Lubin said; Solana needs to "figure out a more sustainable business model" or "die," he told The Financial Times.
Features & Interface
The ConsenSys CEO did say that MetaMask intends to do a redesign this year to improve user experience. MetaMask also lacks some features of the Brave competitor.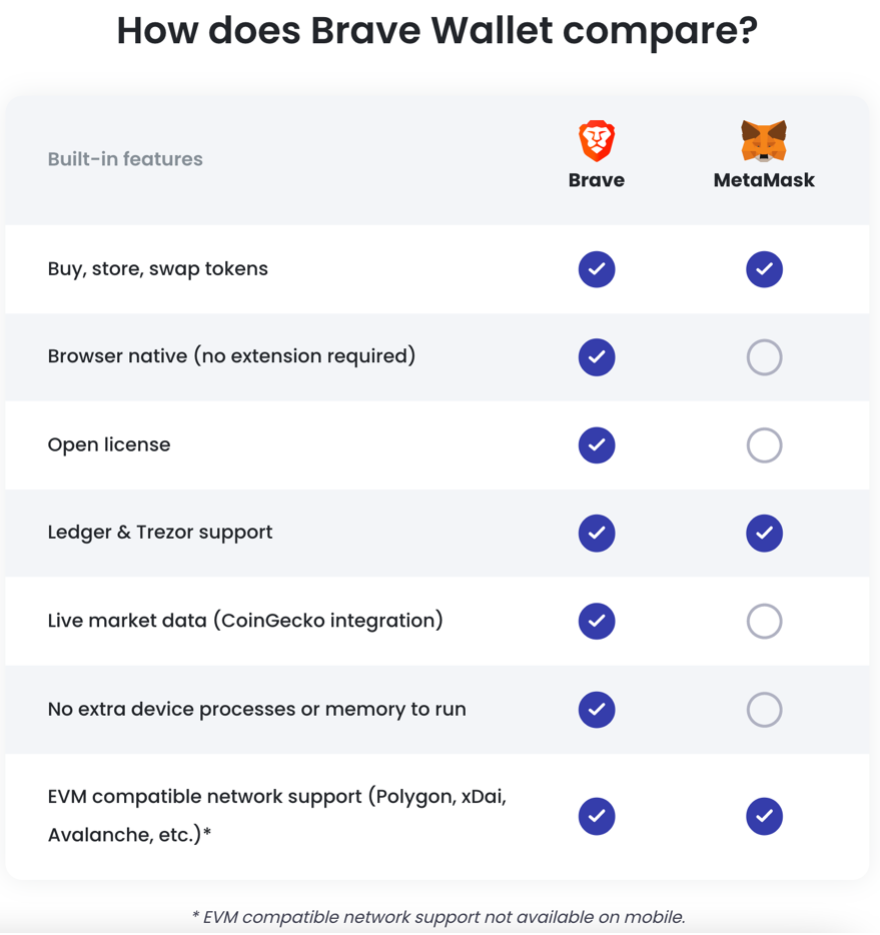 Source: Brave.com
Luckily, ConsensSys just got that $450 million in venture capital, which it can use for acquisitions that build on MetaMask.
That's just what ConsenSys started doing last month, when it announced it would be acquiring MyCrypto, a wallet that operates within your browser. "The idea in combining the two wallets is to create a product that supports desktop, mobile and browser-based wallets," (just like Brave Wallet), Blockworks reports.
I'd argue the best acquisition of all would be a wallet with a better, less clunky interface than MetaMask!
Jay Drain Jr. of Maven Ventures is among the thought leaders in crypto to acknowledge "the product's difficult, confusing consumer experience."
"MetaMask's suboptimal UX and the surging popularity of NFTs have created tremendous opportunities for newer crypto wallets to gain both mind and market share with superior UX, especially on mobile," he adds in his brilliant essay The Crypto Wallet: Unlocking Digital Identity.
Rainbow.me is one of the wallet startups that Drain highlights for its design, which is not only simpler – but more personal. "Where UX really has an opportunity to shine," he writes, "is in designing a wallet that feels like a PLACE."
See, the new school of thought is that crypto wallets can house an entire digital identity – like a Facebook profile…but way better.
Tumblr, as Drain notes, is "resonating with Gen Zs more than Instagram and Facebook," and it is "design[ed] for intimacy." Following Tumblr's lead, a company like ConsenSys could make their wallet into "a personal, digital third place to hang out and interact with your assets."
It would also be a much more streamlined internet experience, all in one app… Allowing a new and improved MetaMask to absolutely gobble up market share in Web3: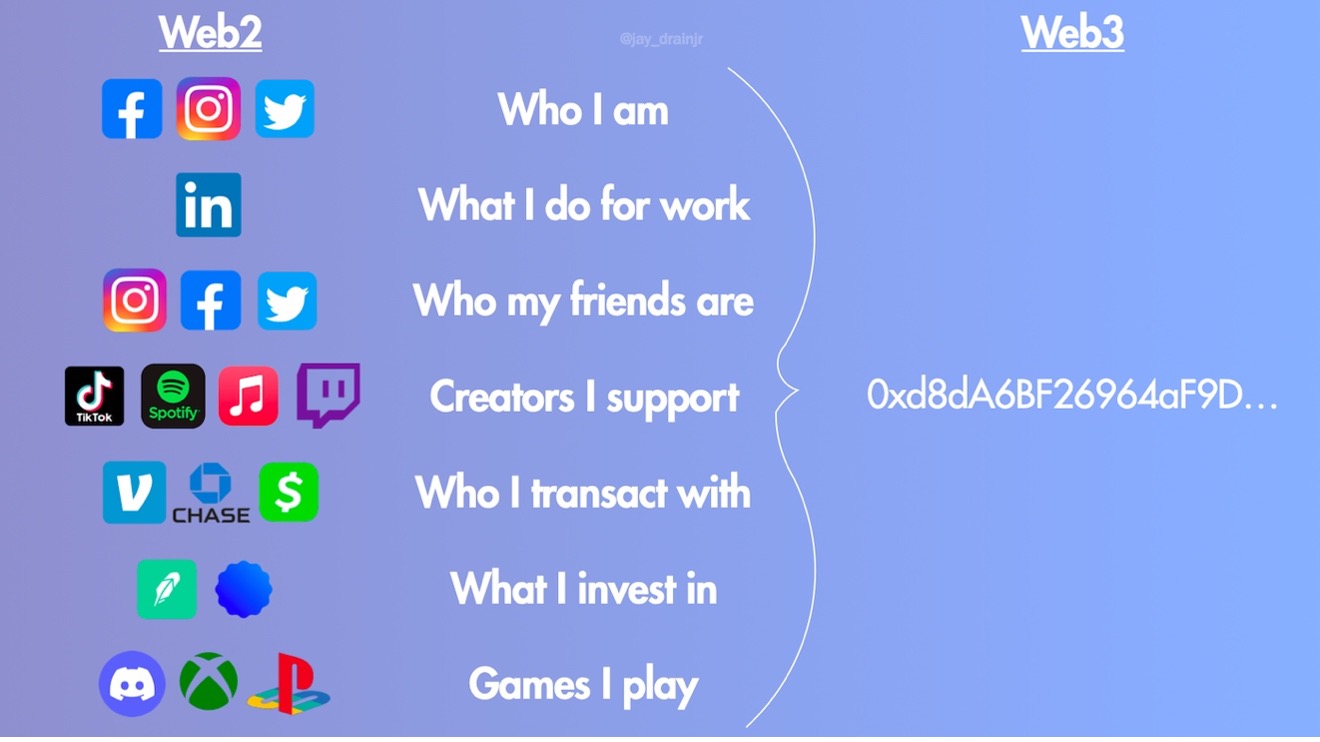 Source: JayDrainJr.substack.com
"Legacy wallets will initially consume new demand. But as the variety of applications, use cases, and behaviors expands, users (and developers) will need integrated wallets more supportive of leveraging on-chain provenance and transporting your digital identity across apps and chains," agrees Gaby Goldberg of The Chernin Group.
"I'm excited by wallets like Genesis, Bitski, and Sudo for these reasons," Goldberg adds in The Generalist.
The Chernin Group is an all-star investor, with Reese Witherspoon's Hello Sunshine, Dave Portnoy's Barstool Sports, Dapper Labs (maker of NBA Top Shot) and OpenSea on its roster… So, their vision of digital identity is well worth consideration by MetaMask and anyone else.
Bottom line: If MetaMask can serve up the best wallet product (on top of just being the most popular one), its total addressable market is massive.
With real-time transactions on the blockchain and a great Web3 experience… the next iteration of MetaMask could permanently disrupt finance as well as Web 2.0.