Bitcoin (BTC) recently hit a 10-month low of $29K as more liquidation engulfed the market.
Market analyst Ali Martinez believes a bearish picture is being painted in the BTC market because it has broken the historical trendline. For this to be invalidated, the leading cryptocurrency needs to reclaim $36K.
"Bitcoin has broken its historic trendline. The last two times this happened BTC retraced by 37.67% and 41.32%, respectively. Similar price action could see prices crash by 40.59% to $20,000. BTC would have to reclaim $36,000 to invalidate this bearish thesis."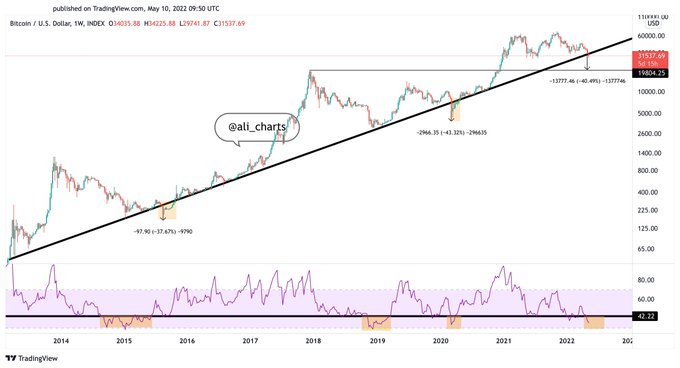 The leading cryptocurrency was hovering around the $30,744 level during intraday trading, according to CoinMarketCap. On its way to $36K, Bitcoin will have to breach significant resistance at the $34,700 area. Martinez added:
"Bitcoin appears to be rebounding, but notice that it faces stiff resistance at $34,700 where over 668,000 addresses bought nearly 376,000 BTC."
Bitcoin's correlation with S&P 500 reaches historic highs
As more institutional investors continue jumping on the crypto bandwagon, the correlation between cryptocurrencies and stocks becomes stronger.
For instance, the three most majorly followed stock indexes in the U.S. – the S&P 500, Dow Jones Industrial Average, and Nasdaq Composite – fell to their lowest level since 2020.
"Bitcoin correlation with the S&P 500 has reached a new frustrating all-time high," Mati Greenspan, the CEO of Quantum Economics, said.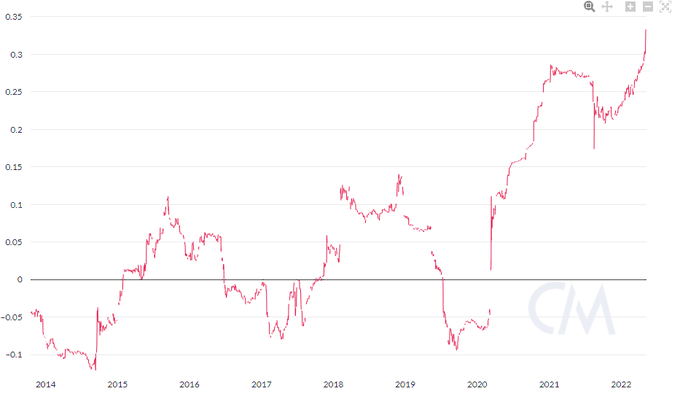 Similar sentiments were shared by JoeDiPasquale, the CEO of crypto hedge fund manager BitBull Capital. He noted:
"The monetary policy tightening is causing investors to reduce their exposure to risk assets and BTC's current correlation to the S&P 500 has led it to also drop today."
Meanwhile, Edward Moya, a senior market analyst at forex exchange company Oanda, believes the drop in crypto prices is based on the sell-off witnessed in tech stocks. Therefore, stability in the Bitcoin market will occur when investors stop panic selling and the bloodbath on Wall Street ends.