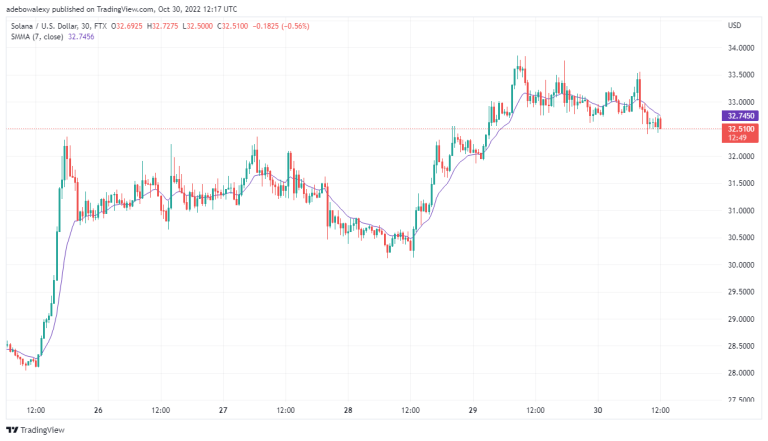 SOL/USD price activity has moved up significantly, breaking some notable resistance. Yet price action still looks poised for more upward gyration. At the same time, the SOL/BTC market as well is showing more upside promises. Therefore, this price prediction will further look into this market, to get more useful information.
SOL Analysis Statistics Data:
SOL value now: $32.58
Solana market cap: $11.61 billion
SOL moving supply: 358.77 million
The Total supply of Solana: 511.62 million
SOL Coinmarketcap ranking: #10
Major Price Levels:
Top Levels: $32.58, $34.50, $36.00
Base Levels: $31.00, $30.00, $28.00
Solana Price Prediction Today, October 31, 2022: SOL/USD Advances Higher
The SOL/USD price action has broken the 78.60 Fibonacci level to the upside. However, it looks like some selling has started in this market, and this has pulled down price action a bit. Even at that, price activity is still positioned above the SMA lines, which portrays the possibility of price resuming its upside path. In addition, the MACD lines are still rising above the equilibrium level of 0.00, which implies that Solana is still gaining upside momentum. Consequently, price action may soon break the $35, level if the uptrend resumes, and it's likely it does.
Solana Coin Price Prediction Today, October 31, 2022: SOL/BTC Is Trending in the Upside Direction
Price action in the SOL/BTC market has smoothly passed above the Smooth Moving Average line. Nevertheless, the last price candlestick here indicates the activities of downward forces. Yet, price activity at this point still maintains more possibilities of further upside movement. Furthermore, the MACD as well portrays that price action is still gaining upward strength as its lines steadily rise upwards. Should, either buying pressure or upward forces continues to mount price action may break the 0.001679 level very soon. Traders can still go long, or wait for the uptrend to resume by positioning a buy order at 0.001579.