Bitcoin remains bullish on the lower time frames following a strong bounce from the $43,800 level of support overnight
Bitcoin is currently trading at $46,225 following a ferocious bounce off $43,750 during the overnight trading session.
The world's largest cryptocurrency has now formed another higher low in its barnstorming up-trend from last month's low of $29,250.
One of the most bullish factors in Bitcoin's current posturing is that the daily 50 EMA is desperately close to crossing the daily 200 EMA to the upside, in what is often labelled as a golden cross.
Completing a golden cross so soon after a 50% correction would be fairly unheard of in the history of Bitcoin, which is why traders are proceeding with more caution around this rally. Trading volumes are 50% lower than when Bitcoin was at this level in January, while derivative funding rates are siginficantly lower.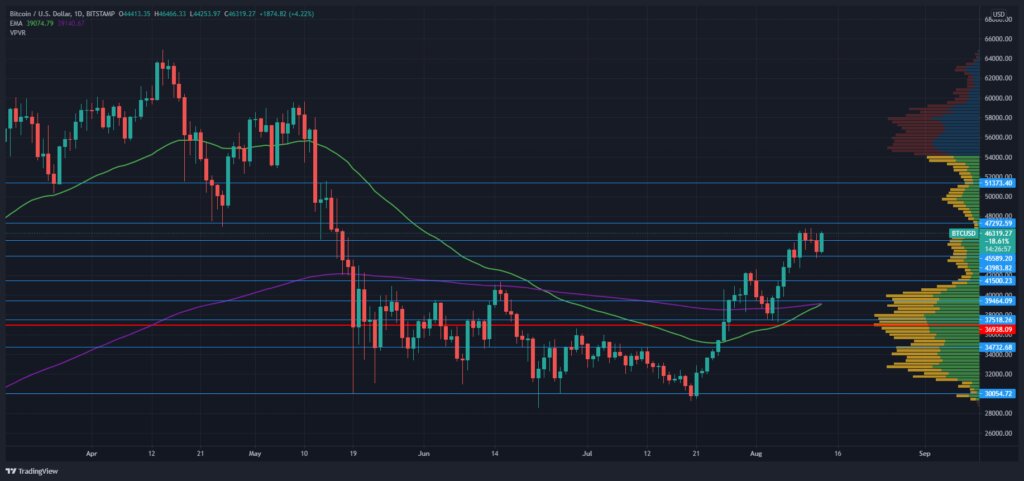 BTCUSD chart by TradingView
A bull trap scenario is still very much on the cards, the market would cause the maximum amount of pain to both sides if it were to rally up to $50,000 before tumbling back into the depths of another gruelling bear market.
However, before a move to $50,000 comes into fruition, Bitcoin first needs to surpass the hurdles of resistance at $46,800, $48,500 and $49,250, all of which posed bitter points of rejection earlier this year.
It also remains to be seen whether bearish traders step in at any of these levels, most have been sidelined for this entire move from $29,000 following a cascade of short liquidations this month.
Short-term levels of support remain at $43,000, $40,450, $39,200 and $37,800.
Bitcoin pricing
Current live BTC pricing information and interactive charts are available on our site 24 hours a day. The ticker bar at the bottom of every page on our site has the latest Bitcoin price. Pricing is also available in a range of different currency equivalents:
US Dollar – BTCtoUSD
British Pound Sterling – BTCtoGBP
Japanese Yen – BTCtoJPY
Euro – BTCtoEUR
Australian Dollar – BTCtoAUD
Russian Rouble – BTCtoRUB
About Bitcoin
In August 2008, the domain name bitcoin.org was registered. On 31st October 2008, a paper was published called "Bitcoin: A Peer-to-Peer Electronic Cash System". This was authored by Satoshi Nakamoto, the inventor of Bitcoin. To date, no one knows who this person, or people, are.
The paper outlined a method of using a P2P network for electronic transactions without "relying on trust". On January 3 2009, the Bitcoin network came into existence. Nakamoto mined block number "0" (or the "genesis block"), which had a reward of 50 Bitcoins.
More BTC news and information
If you want to find out more information about Bitcoin or cryptocurrencies in general, then use the search box at the top of this page. Here's an article to get you started.
As with any investment, it pays to do some homework before you part with your money. The prices of cryptocurrencies are volatile and go up and down quickly. This page is not recommending a particular currency or whether you should invest or not.