Ethereum has began 'burning' part of its supply by sending base network fees to the 0x000 address which has no private key, instead of giving it to miners.
The upgrade activated just now at around 2:37 PM euro time and seems to have gone fine with no known problems.
Infrastructure providers like MetaMask are also upgrading with fees now to become a lot more predictable. The gas limit is to double once miners change the defaults.
Some eth have been burned already with this burning to continue now effectively indefinitely as network usage translates directly into a dividend of sorts for holders through reduced supply.
If network usage is above block rewards, then the total eth supply will fall, something that can be quite common once the staking upgrade takes place as block rewards in Proof of Stake (PoS) are 0.2% – 1% of total supply. For miners currently it's at about 4%.
As the burning occurs by the block, its effects are likely to be gradual where supply and demand is concerned with some days needed and perhaps weeks for it to reach the point where it starts affecting miners' 'savings.'
After which the reduced supply to miners will begin to be felt because they'll have less coins to supply to the market, thus changing the balance between supply and demand.
The market can try and price-in that change, and arguably it's in the process of doing so with eth reaching $2,700 before currently trading at $2,640.
However, proper pricing will depend on full information like just how much eth is being burned, but generally ethereum now is a 'yield' producing asset in as far as demand for network usage translates to an increase in scarcity for eth.
Update: This has now already crossed 10 eth burned just minutes after EIP1559 activated.
According to Eth Burn by David Mihal the burning is crossing 20 eth as shown in the now updated featured image.
We are now seeing 1eth burned per block.
We are closing in on 50 eth burned, worth $130,000, about 20 minutes after the burning began.
3:01 PM UTC: 54.2471085937 eth have now been burned.
3:07: 70 eth burned, we may be running at 20 eth every ten minutes or so.
The burning might be running at a higher speed because some miners have not correctly increased the gas limit in their configurations.
"Spark Pool actually seems to be dragging it down, but they weren't a while ago," Tim Bieko, the eth1 coordinator, says.
3:11: We are closing in on 100 eth, that's some $260,000 already taken out of circulation. This thing is flying.
3:17: 100.849673875 eth has been burned.
We are closing in on the first hour. No problems have been reported, which indicates it is very likely the upgrade has been fully successful technically.
Etherchain, one of the biggest mining pool, appears to be voting the gas limit up with it expected to double. However it's late evening in Shanghai, 21:25 PM their time, so some China based pool operators, like Sparkpool, have not updated the gas limit in their configuration. That should begin to change.
MetaMask is rolling out their upgrade:https://twitter.com/MetaMask/status/1423262772092100610
There's some backwards compatibility here with non 1559 transactions just burning, so you can't set a tip for miner priority in times of high congestion.
Once MetaMask rolls out and other providers, the ratio between burned eth and tipped eth should change, with it now at around 16%.
F2Pool is also voting gas down. Wang Chun maybe asleep? This however just means more eth gets burned, so holders get rewarded now if miners want to maximize profitability.
3:35: We're closing in on half a million dollars being burned now about one hour since the upgrade kicked in with 159.4834379252 eth burned.
3:37: First block that burned more eth than issued has been found.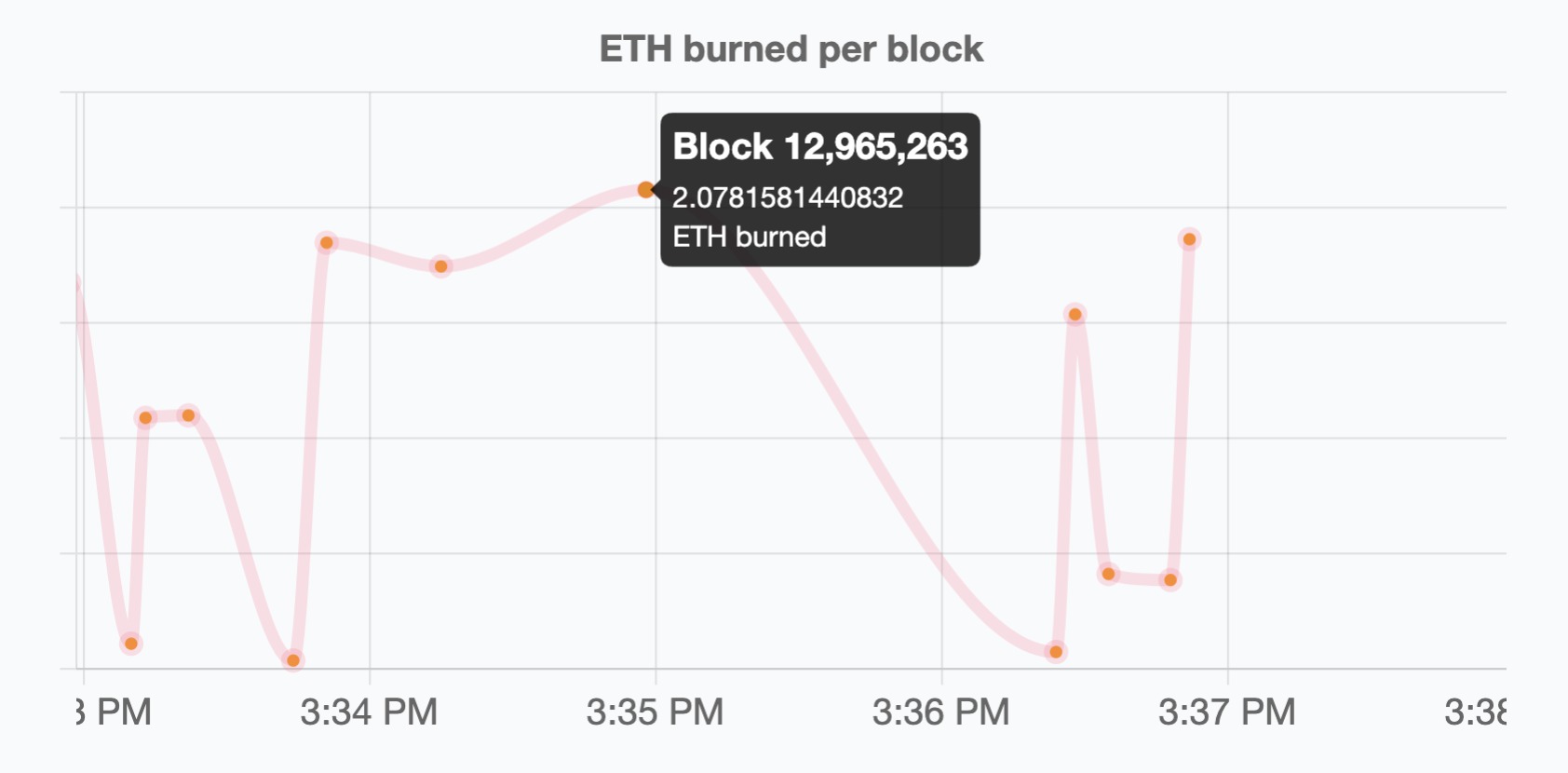 First deflationary eth block
3:43: More than $500,000 eth has been burned, 191.0485500016 eth.
That means we're running at about $1 million eth burned every two hours, or $10 million burned per day.
If we take this as an average, eth will be burning $1 billion every three months. That's while currently we're not in a high fees period.
Another way to look at it is that eth now has $200 million in new demand through reduced supply every three weeks.
With that, we're closing this session unless any other very pertinent information arises as this has all gone well and we have a general idea of how much eth will keep on burning.
TRUSTNODES