TRON (TRX) took a heavy hit during the first half of November following unfortunate events such as the implosion of FTX, an exchange that was once considered the third largest in the world.
According to data provided by Coingecko, from its $0.064 price on November 6, TRX went on a steady decline until it plummeted to $0.046 on November 14.
After that, the cryptocurrency managed to stage a rebound and continues to do a relatively good job at recovering its losses.
In fact, at the time of this writing, TRON has managed to tally a 19% jump from its November low, trading at $0.054.
Over the last two weeks, the digital asset seems to have found its groove as it continues to shake off the negative effects of both the crypto winter and the FTX collapse.
Tron Report Reveals Project Capable of Attracting More Users
As another week came to a close, Tron blockchain, via Twitter, shared some important data pertaining to its performance for its community.
According to TRON DAO's post, the project managed to add 1.75 million new addresses within the last seven days, pushing its total tally to 123.3 million accounts.
Also, during the same period, the total number of transactions facilitated on the blockchain network reached 4.28 billion.
In terms of total value locked (TVL), from November 21 to 27, the project was able to hit the $9.4 billion mark after registering an increase of roughly $400 million. Meanwhile, the Tron blockchain height surpassed 46.23 million during the same timeframe.
The data, according to Tron, seems to prove that given the right conditions, the project is capable of enticing millions of new users to join its ecosystem. It also indicates there are still many individuals that believe in the blockchain's potential.
3 Main Problems TRX Is Facing
Although it is hovering around the $0.054 at the moment, TRON is not yet out of the woods as there are still challenges that could cause it to plummet once again.
According to some experts, the cryptocurrency is left to deal with the fact that many people lost their faith in the digital asset class following the collapse of the FTX exchange platform which filed for Chapter 11 Bankruptcy on November 11.
TRX is also facing fierce competition from projects such as BitGert (BRISE) and Centrex (CENX) which are, according to experts, having better adoption numbers when compared to the Tron token.
Finally, within the last few weeks, there has been an apparent instability within Tron network as investors panicked when USDD (the project's algorithmic stablecoin) lost its peg to the US dollar.
These could trigger another price dump for the crypto asset, therefore investors and prospective buyers are advised to keep an eye on these to help them with their decision making.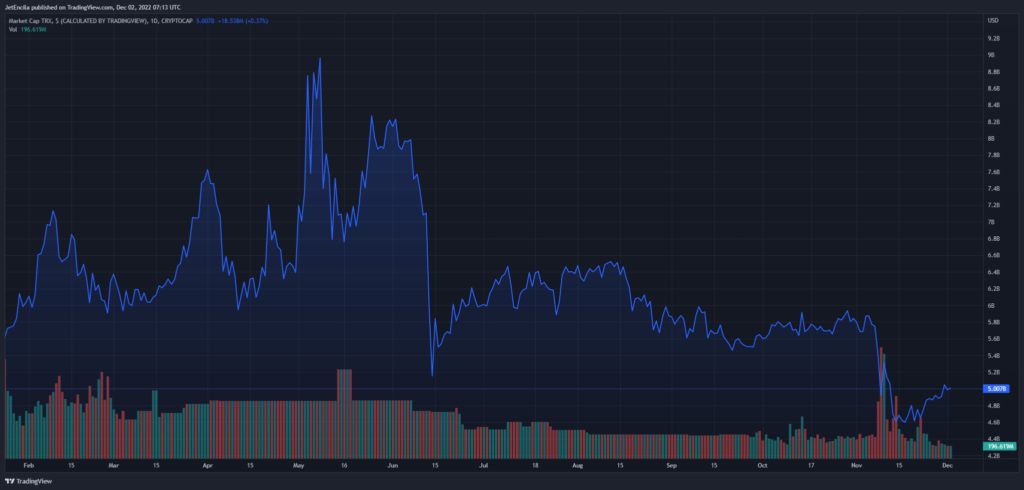 TRX total market cap at $5 billion on the daily chart | Featured image from Car and Driver