Quant (QNT), a cryptocurrency with a total market cap of $1.88 billion, is outperforming some of the more popular altcoins out there, going up by 10% during the last seven days.
According to latest tracking from Coingecko, at the time of this writing, the altcoin is changing hands at $129.88 and is in the midst of a 22.5% increase over the previous two weeks.
At a glance:
Quant has established important support zones of $111.5 and $100
QNT may soon test the $157 resistance territory
The altcoin is enjoying a weekly gain of 10%
Prior to the crypto market woes that were brought about by the collapse of the FTX exchange platform, the digital asset was enjoying a good run above the $160 region.
After the exchange imploded, QNT was hit very hard, diving all the way down to $95.28 on November 14. Since then, the digital coin has done a great job of bouncing back to reclaim and sustain the $100 territory.
Over the last few days, Quant's price action formed an ascending triangle pattern which indicates more bullish activity from the 30th largest cryptocurrency in terms of overall valuation.
A Possible Push Beyond $150 Zone For QNT
With its Relative Strength Index (RSI) positioned above the neutral zone, there is indeed a positive outlook for the trajectory of Quant price.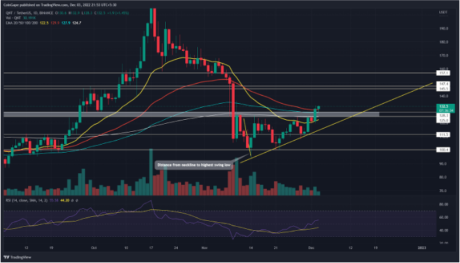 On three different occasions, QNT has already tested its support and resistance trendlines of $128-$125, indicating that traders have active participation for the asset's technical set-up.
The asset, on December 2, made a decisive push beyond the set resistance neckline of $128, triggering the bullish run that comes with its current price action pattern.
Combining with the definitive increase in QNT trading volume, this momentum is expected to kickstart a strong surge of 18.5% to catapult the asset all the way up to the $155 resistance region.
Traders and those who are considering buying right now, however, need to keep a close eye on the altcoin as the bullish thesis will be nullified in the event of a price dump that pulls Quant below its support zones of $111.5 and $100.
Worst Case Scenario For Quant
Should the digital coin fail to capitalize on its current momentum and do fall below the crucial support territory, Coincodex predicts a sharp decline for its trading price.
If this unfolds, within the next five days, Quant will most likely decrease its value by almost 27% to change hands at $95.77.
Meanwhile, after such price dump, the asset is seen to once again mount a recovery to trim its losses. The online crypto information provider predicts that during the next 30 days, QNT will possess a trading price of $101.58