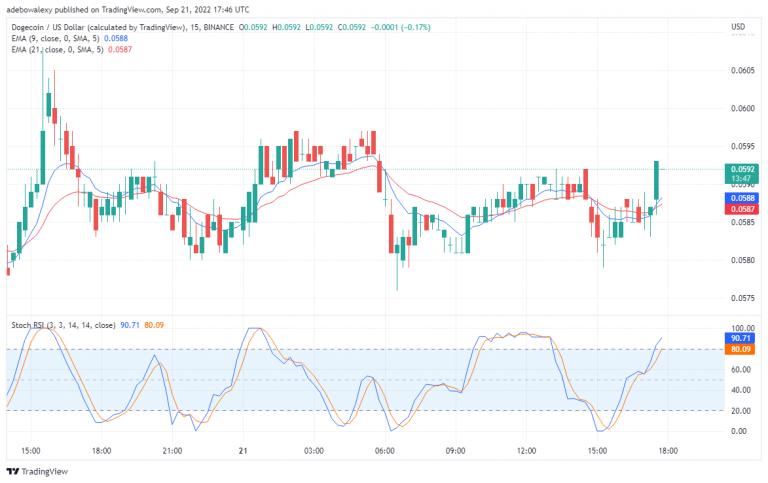 Not too long after much selling produced a bearish candle, which brought price down. DOGE/USD price is already taking off towards higher resistance.
Dogecoin Analysis Statistics Data:
DOGE value now: $0.0592
Dogecoin's market cap: $7.95 billion
DOGE's moving supply: 132.67 billion
The overall supply of Dogecoin: is 132.67 billion
DOGE's Coinmarketcap ranking: #10
Furthermore, signs coming from trading indicators are still positive at this point. Therefore, it is important to further examine what could be witnessed in this market. At the same time, we will apply like approach to the DOGE/BTC market as well.
Crucial Price Marks:
Top Levels: $0592, $0.0630, $0.0680
Base Levels: $0.0572, $0.0540, $0.0500
Today On the daily chart for DOGE/USD there are signs that the current price move may progress higher. The last three candle on this chart, which indicates the activity of buyers, as they are progressively pushing higher upwards. Although price movements are still under the MA of the Bollinger indicator, the Stochastic indicator may be bringing a ray of hope. The RSI can be seen turning towards each other at the level of 38% and 35%. When they cut across each other price activity will trend upwards. Consequently, the uptrend will continue. However, since the line is still below 50% this trend can still be considered as weak. Nevertheless, traders can predict the price to reach above the $0.0630 level.
Dogecoin Price Analysis: DOGE/BTC Is Showing Considerable Strength
The DOGE/BTC price action is showing signs of having gained significant strength. Her price candles have gotten to the middle band of the Bolinger Band. However, downward forces have acted on price action and have brought it a bit below the MA of the Bollinger.